LOT: Objects from here and around, found and altered for everyday use.
---
LOT 2: Hot Seat
A small, curated collection of objects for seating, lounging, and dining.


SID 1.2 Stool

11" W x 16" H
Wood + Epoxy
Light Green


The SID 1.2 stool is fabricated in Brooklyn by designer David Larsson. These solid wood stools are made to order and can be customized by color. The epoxy adds a unique texture to the high gloss finish, with a hand made quality that guarantees each stool to be different from the next.

Quantity: 4
Found Chair
22"W x 22" D x 27.5"H
Wood + Epoxy + Fabric
Varies


This found chair has a striking wood silhouette and is beautifully crafted. To highlight the form, we newly finished the frame in a mint-green lacquered finish. The seat has been upholstered in a Dedar floral jacquard with a silk wrap and polyester weft. Limited one-of-a-kind piece, perfect for as a statement easy chair.
Quantity: 1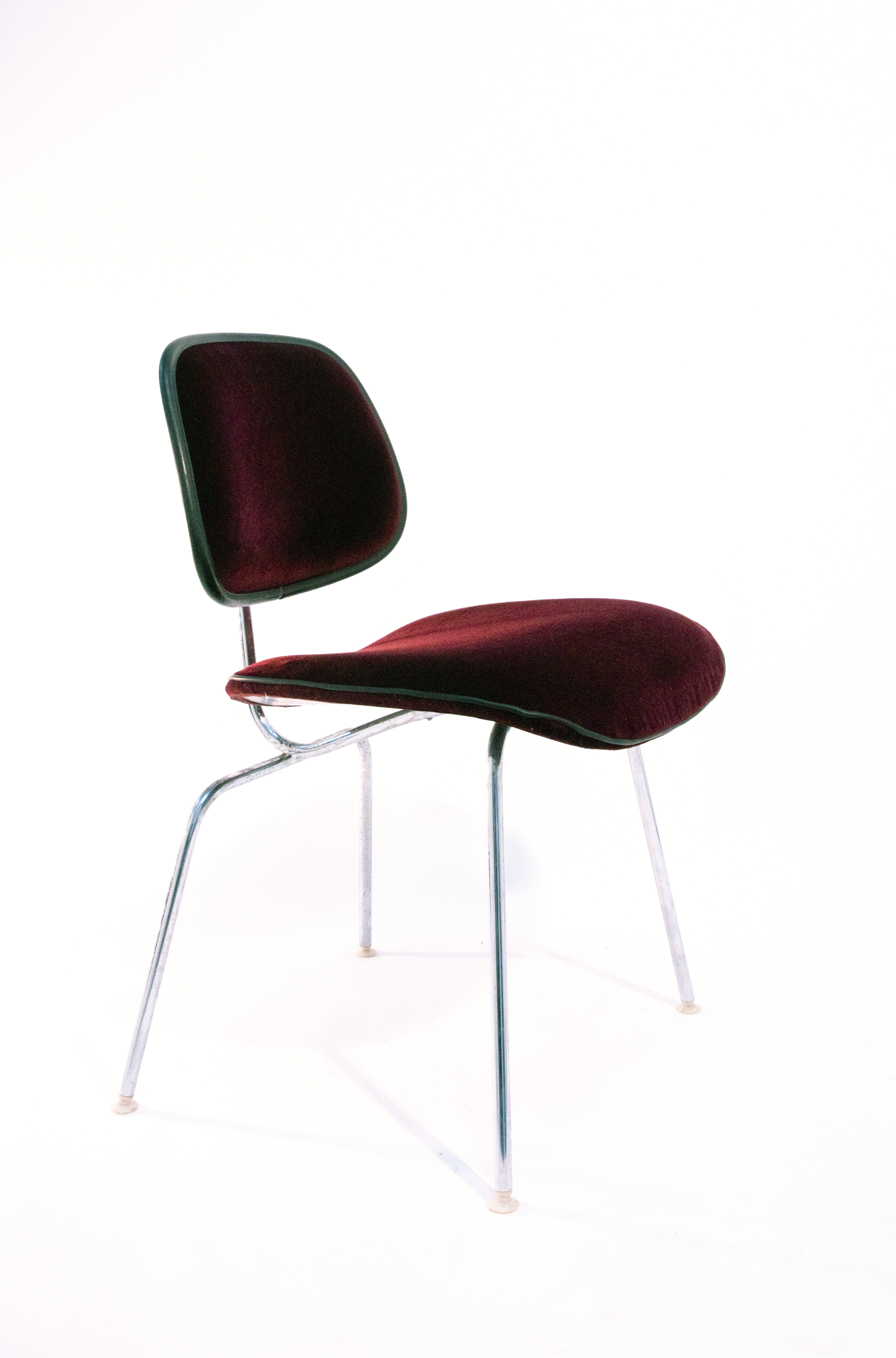 EC-127 Dining Chair

20" W x 21" D x 30.5" H
Aluminum base with Burgundy Mohair upholstered seat and back.
Burgundy


These origonal EC-127 padded DCM Chairs by Eames for Herman Miller chairs have been given new life by a master upholsterer. Wrapped in a burgundy mohair, and finished with a black leather welt, these iconic dining chairs were developed in 1969 and produced for just 10 years. The chairs are labeled and stamped underneath the seat with the Herman Miller insignia. The seat has been newly upholstered with additional padding for comfort. The origonal rubber backing and metal legs remain, with light signs of wear, consistant with age.

Quantity: 4
Paco Capdell Sillero Dining Chair
18.5"W x 17.75" D x 41.75"H
High gloss burgundy lacquered base with a burgundy mohair upholstered seat.
Burgundy


This captain and miss set of Pietro Costantini Midcentury Italian Modern Dining Chairs pack a visual punch. The deep burgundy mohair and high gloss burgundy finish are a refined take on an '80's silhouette. The chairs are labeled underneath the seat, and remain in good condition with minor signs of age. The seat has been newly upholstered with additional padding for comfort.
Quantity: 2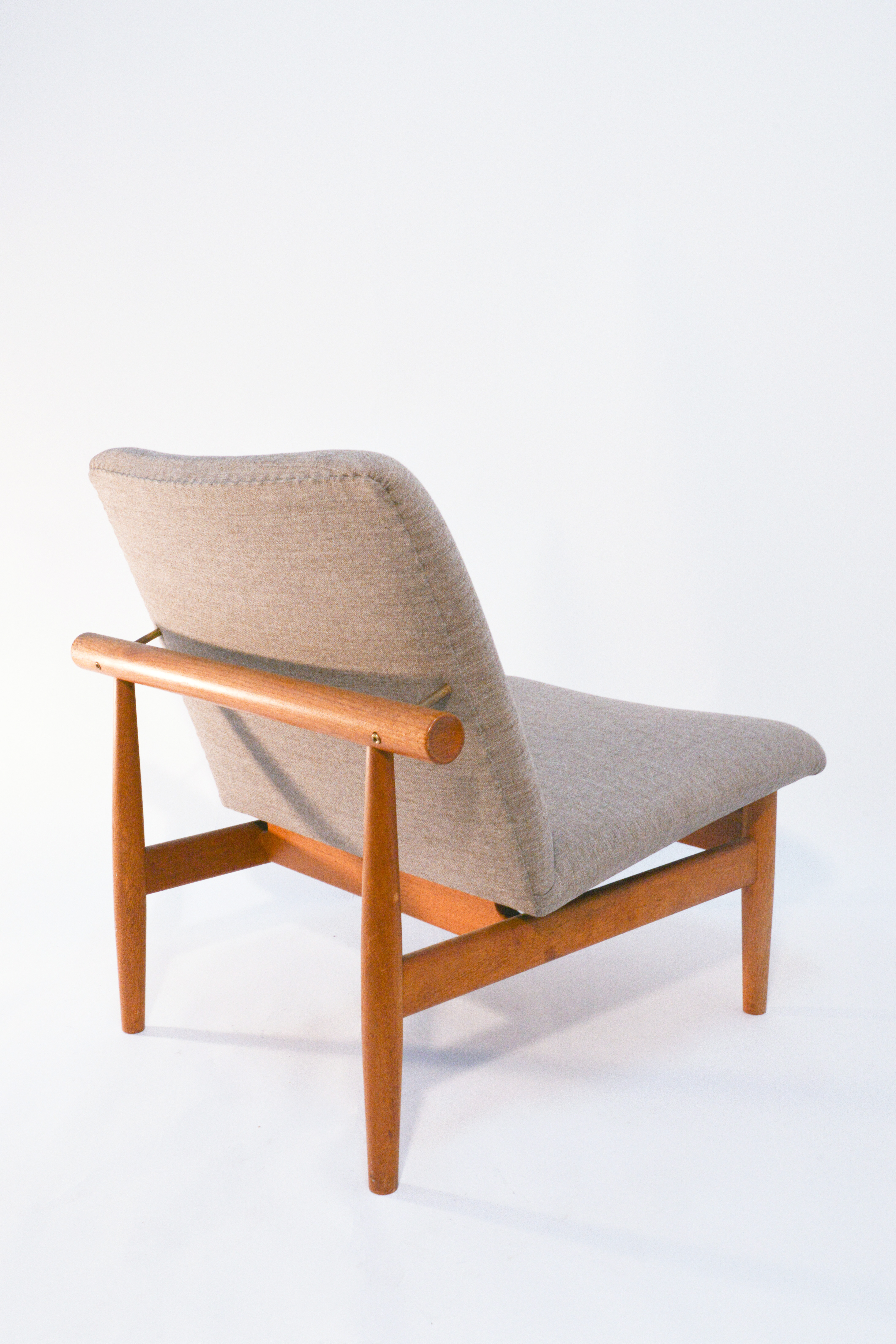 Finn Juhl Chair

24" W x 27.5" D x 30.75" H
Wooden base with gray wool upholstery.



This iconic chair was designed by Finn Juhl in 1957 and relaunched in 2007. The chair is part of Juhl's Japan line and takes inspiration from traditional Japanese building techniques. Its simple form is built from solid wood and brass fittings and wrapped in a heathered gray wool Foss fabric.

Quantity: 2
Italian Brass Chair
14.5"W x 14" D x 30.75"H
Brass frame with dusty rose velvet seat.



These Art Deco Italian Modernist dining chairs hold a delicate but impactful silhouette. Constructed by Chivari out of solid brass circa 1930, the six chairs show only light ware. Currently upholstered in a beautiful umber velvet, the seats can be easily recovered to give these chairs new life.
Quantity: 6
---
LOT 1: Low Light
A small, curated collection of objects to embrace the soft light of the winter season.


Triangular Danish Candle Holder

3" W
Stainless Steel
Vintage 1970s, Danish


This vintage stainless steel candle holder has a faceted triangular base, adding dimension to the tablescape.

Quantity: 1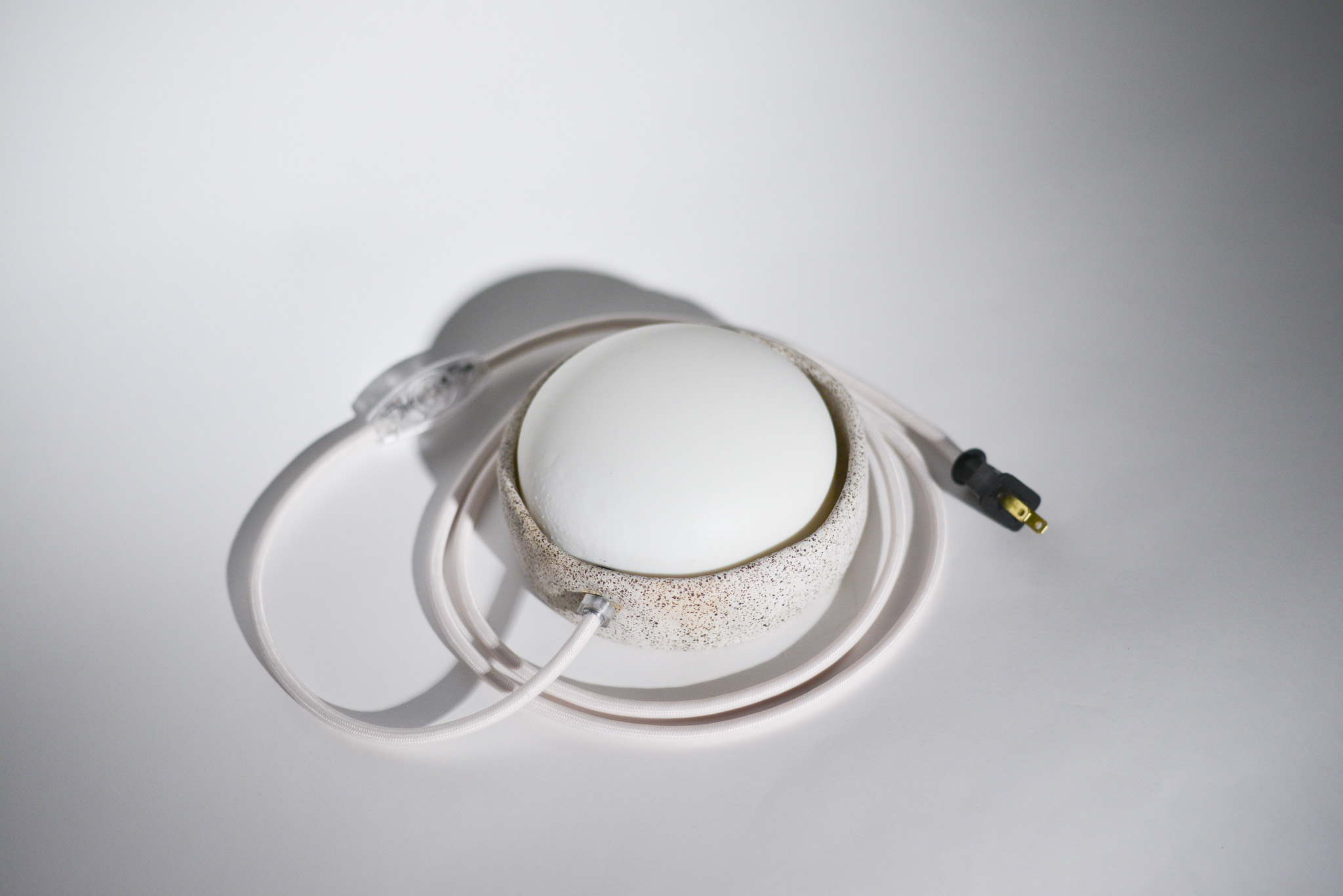 Light 1

6"W
Ceramic, plastic
Objects by Lideborg
Ceramic plug in wall sconce designed and fabricated by Hampus Lideborg and Alicia Miranda of FLCS.
Made to order
Post Modern Memphis Style Table Lamps

20"H x shade dia 12" x 5.25"W
Brass, Metal
Robert Sonneman for George Kovacs, Vintage, 1990


Lighting designer Robert Sonneman designed architectural and decorative lighting that captures contemporary American living. The metal cone shade and geometric brass finishes of these post modern lamps creates a functional and playful design. A frosted glass defuser sits inside the shade to soften the light.
Quantity: 2
Tensor Desk Lamp

3.75ʺW × 2.14ʺD × 18.5ʺL
Stainless Steel
Mid-Century Foldaway/Portable Desk Vintage Lamp, Made in Brooklyn


The vintage Tensor desk lamp is a compact and adjustable piece with hi-low settings. The portable lamp has an industrial and modern style, reminiscent of the Eames era.
Quantity: 1
Sold